This workshop is full and is in session.
Next registration opens December 4th at 9am (Pacific time).
$200 USD*
Throughout history, the ability to print on cloth has created some of the world's most desirable textiles. The ability to deliver rich, saturated, natural dyes through the use of brushes, blocks, stencils and pens is a powerful skill.
Together, instructors Sophena Kwon and Danielle Bush will lead students through making mordant pastes, thickened dye pastes, and the versatile mordant-dye paste. Learn about the dramatic contrasts available from ferrous and tannin combinations. The class will also use print and paint techniques to selectively remove mordants - thus creating an absence of colour when pieces are immersion dyed.
This creative and colourful workshop takes natural dyes to the next level.

This workshop is designed to work for you wherever you are in the world. New content becomes available each week over the course of 9 weeks and will remain available for 3 years from the date of purchase. Work as content comes online or at your own pace. The last module of the workshop includes a live zoom event.


Included in the Workshop:

• Over 40 detailed instructional videos.
• Over 25 demonstration projects
• Access to a robust Q&A section with instructors answering questions 3x a week.
• Preparation of dye extracts, mordant, and printing pastes with clear, step by step instructions. 
• Works taken from blank cloth to finished piece so you can see the entire process.
• One live Zoom event to wrap up the workshop and inspire you on your journey.
For more detailed information view our Frequently Asked Questions.


*COURSES ARE PRICED IN US DOLLARS TO PERMIT PAYPAL AND E-PAYMENTS THROUGH TEACHABLE.


NOTE: SUPPLIES ARE SOLD SEPARATELY. SEE DETAILS BELOW ON HOW TO PURCHASE A SUPPLY KIT FOR THIS WORKSHOP OR VIEW THE SUPPLY LIST TO BUILD YOUR OWN.



Watch the PRINT AND PAINT WITH NATURAL DYES Trailer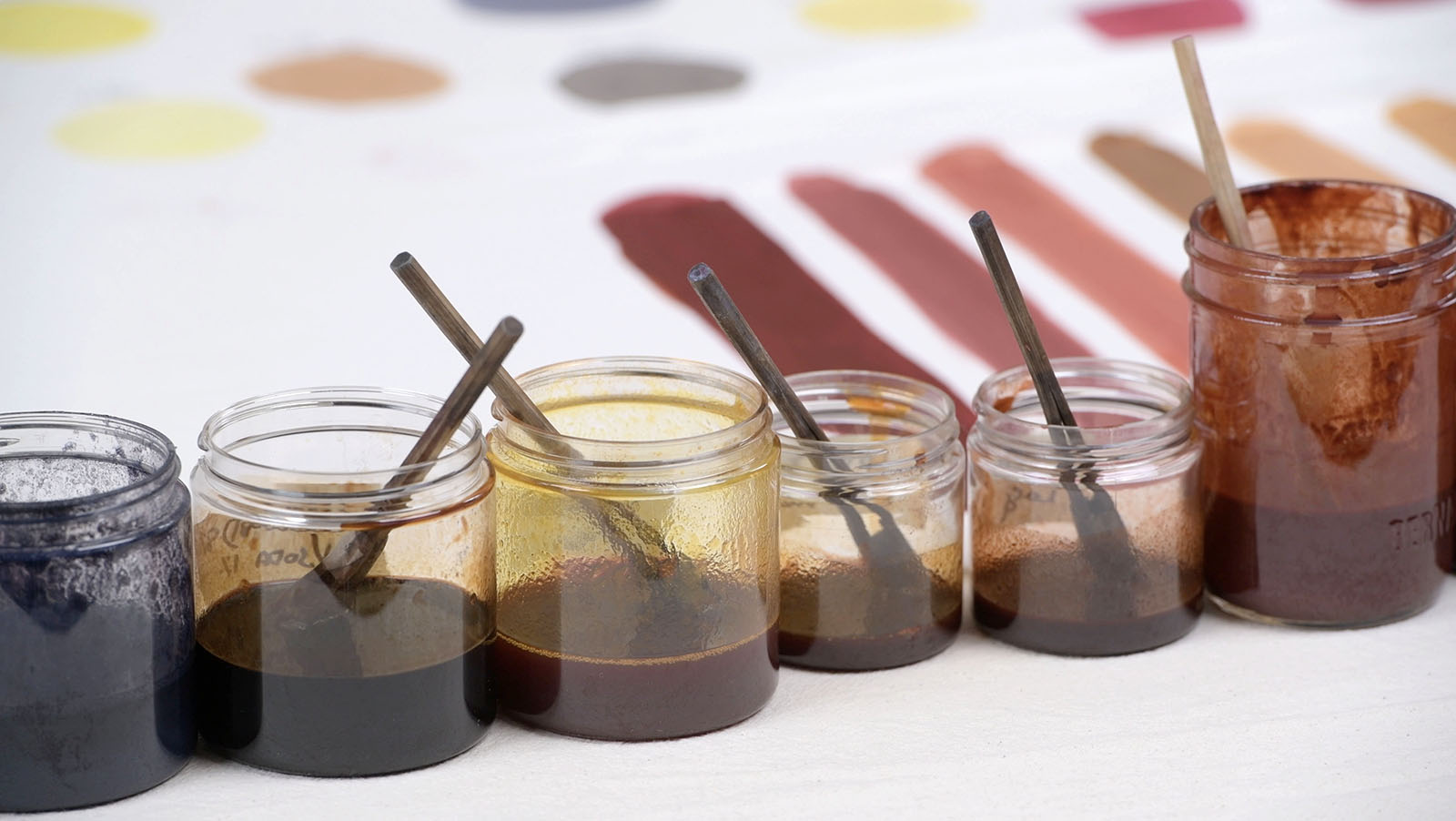 Natural Dye Pastes
Learn how to extract dyes from natural sources and prepare them for direct application.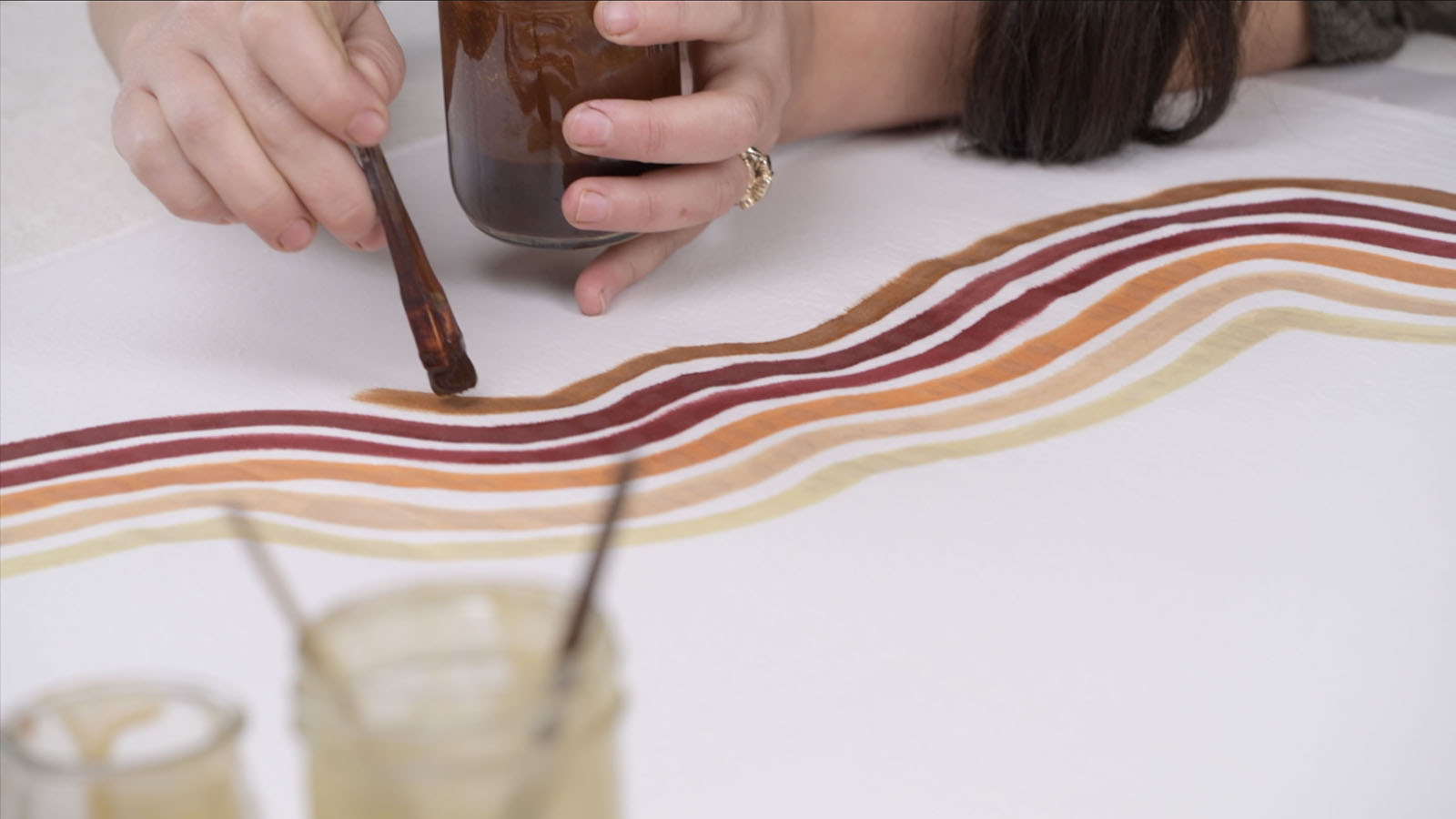 Creativity on Cloth
Sophena and Dani take you through the creation of over 25 printed and painted textiles. Watch the creative process as they design and paint on camera.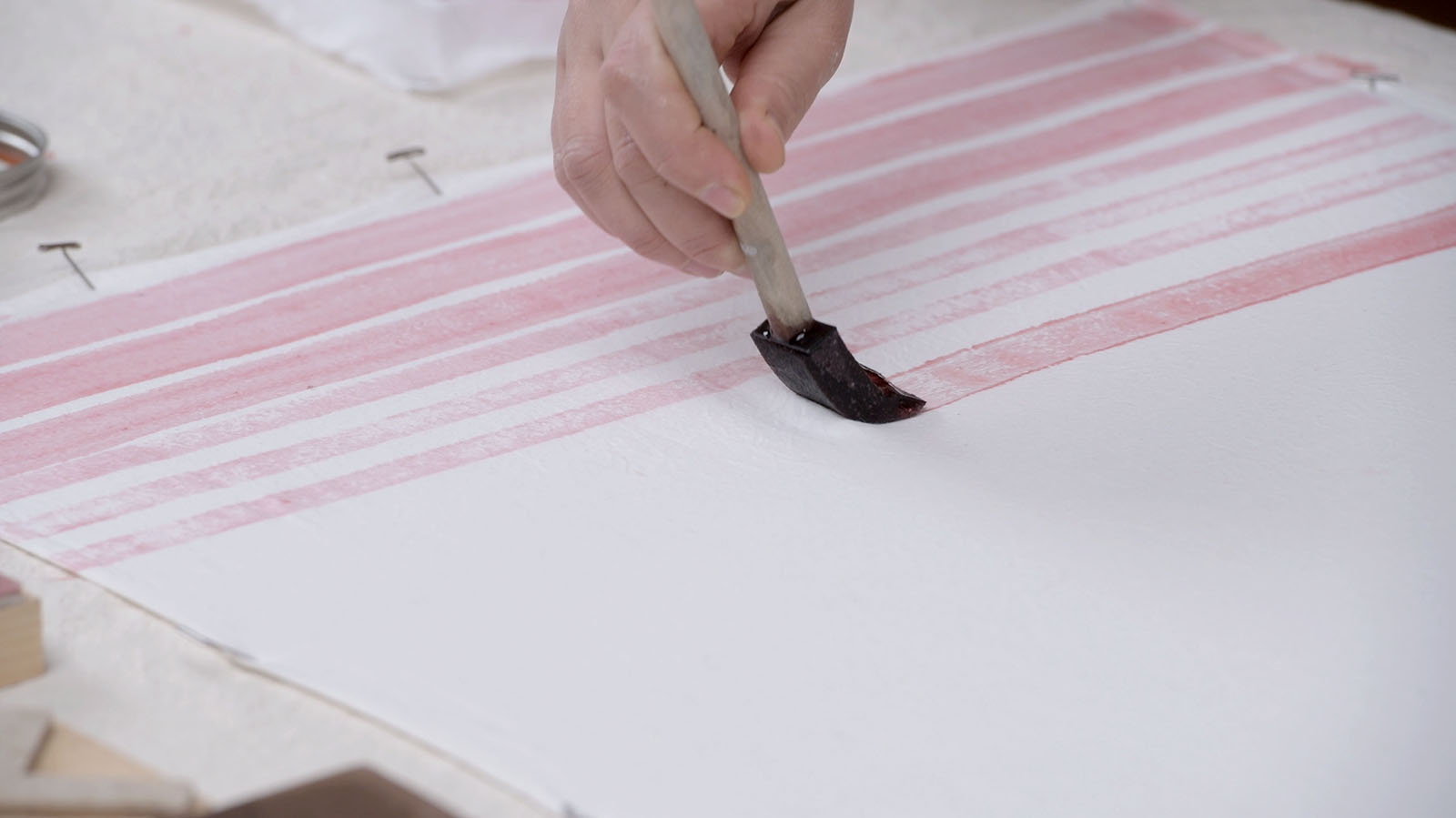 Mordant Pastes
Mordants are the secret to lasting colours when using natural dyes. Learn how to make them into pastes that can be directly applied to your cloth.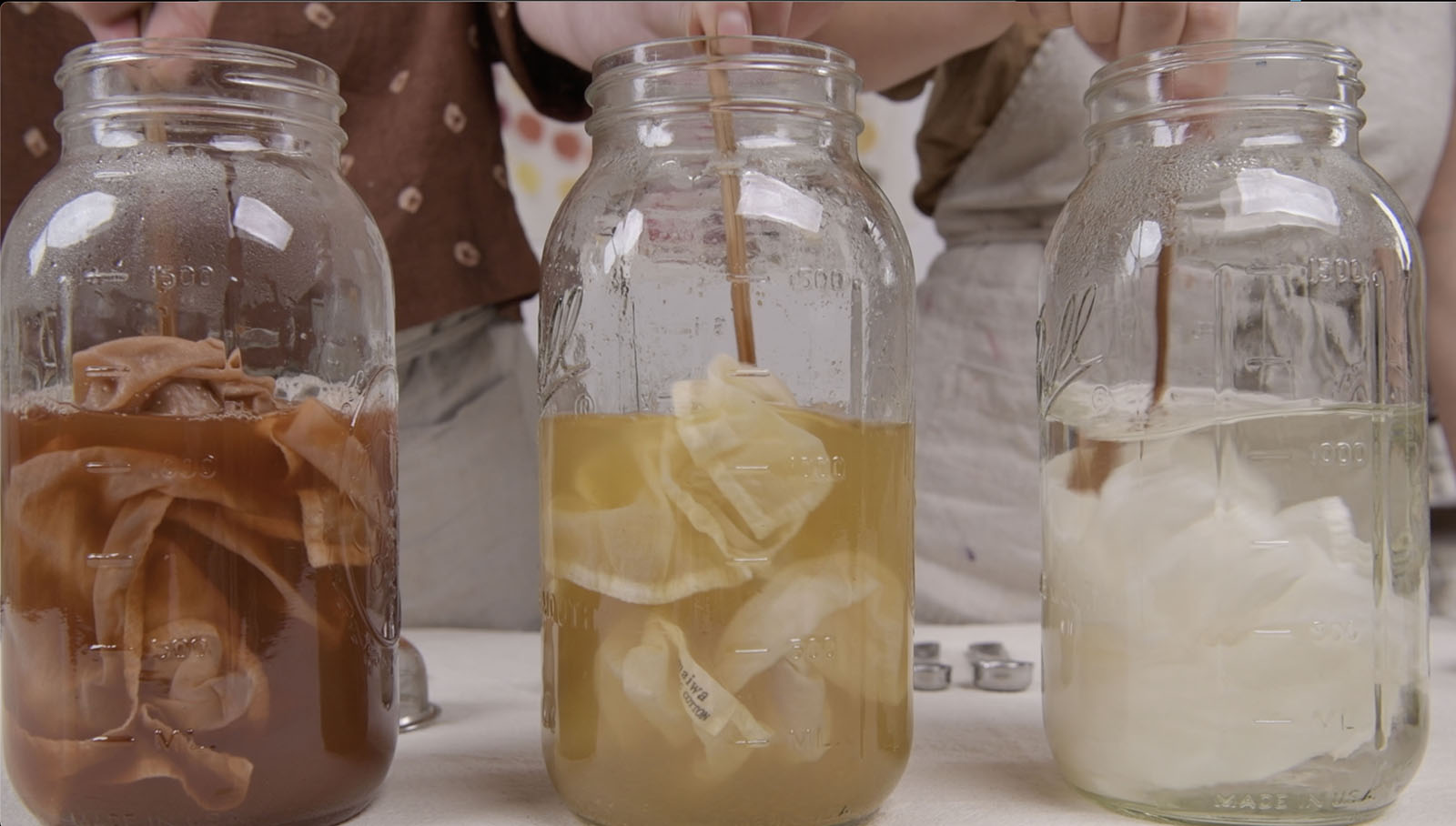 The Richness of Tannins
Tannins offer the possibility of more complex colour combinations. They can provide a clear or a coloured ground for line-work.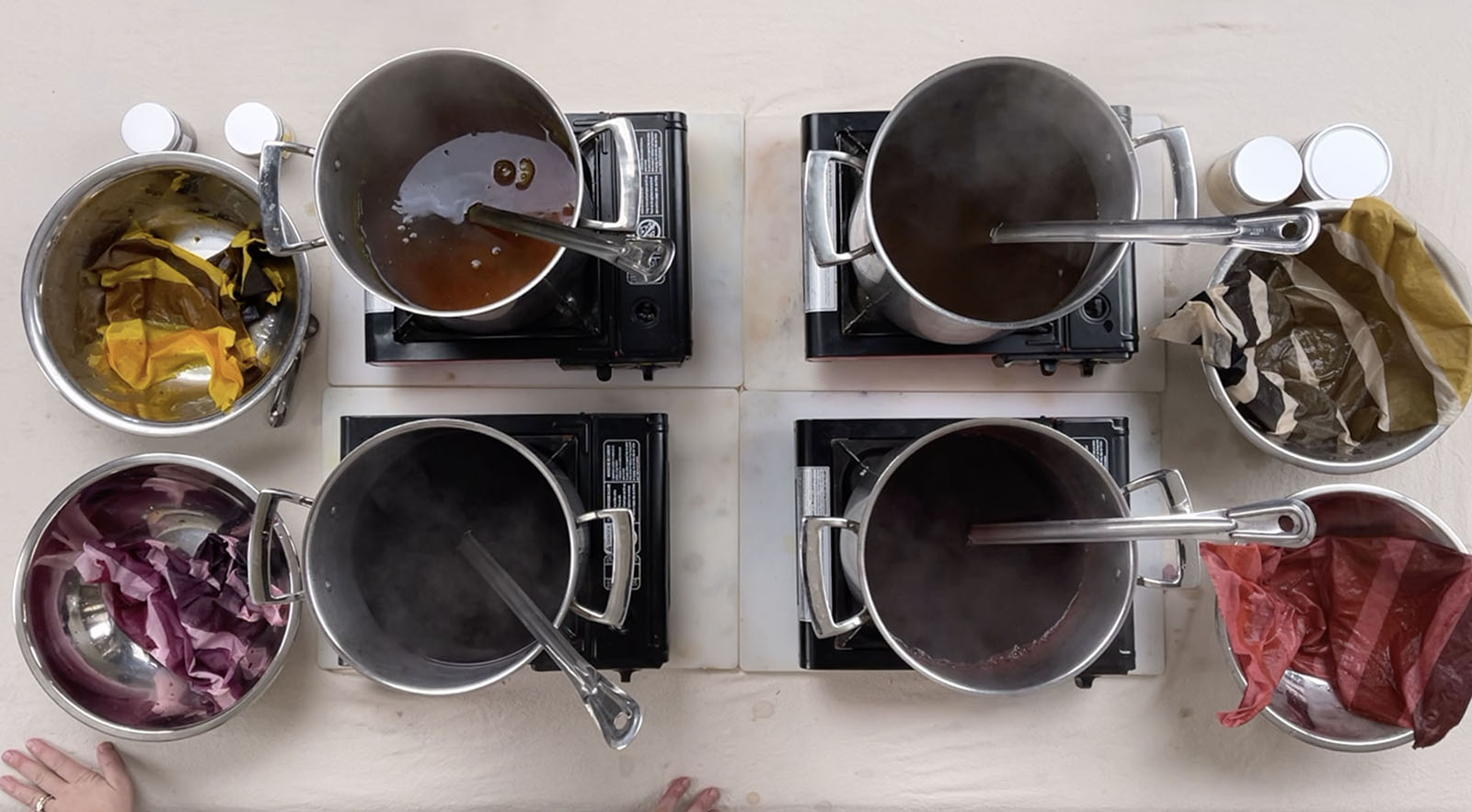 Immersion Dyeing
When the mordant is painted, it joins with your natural dyes in an immersion bath. See the pattern develop before your eyes as the printed or painted mordant is revealed.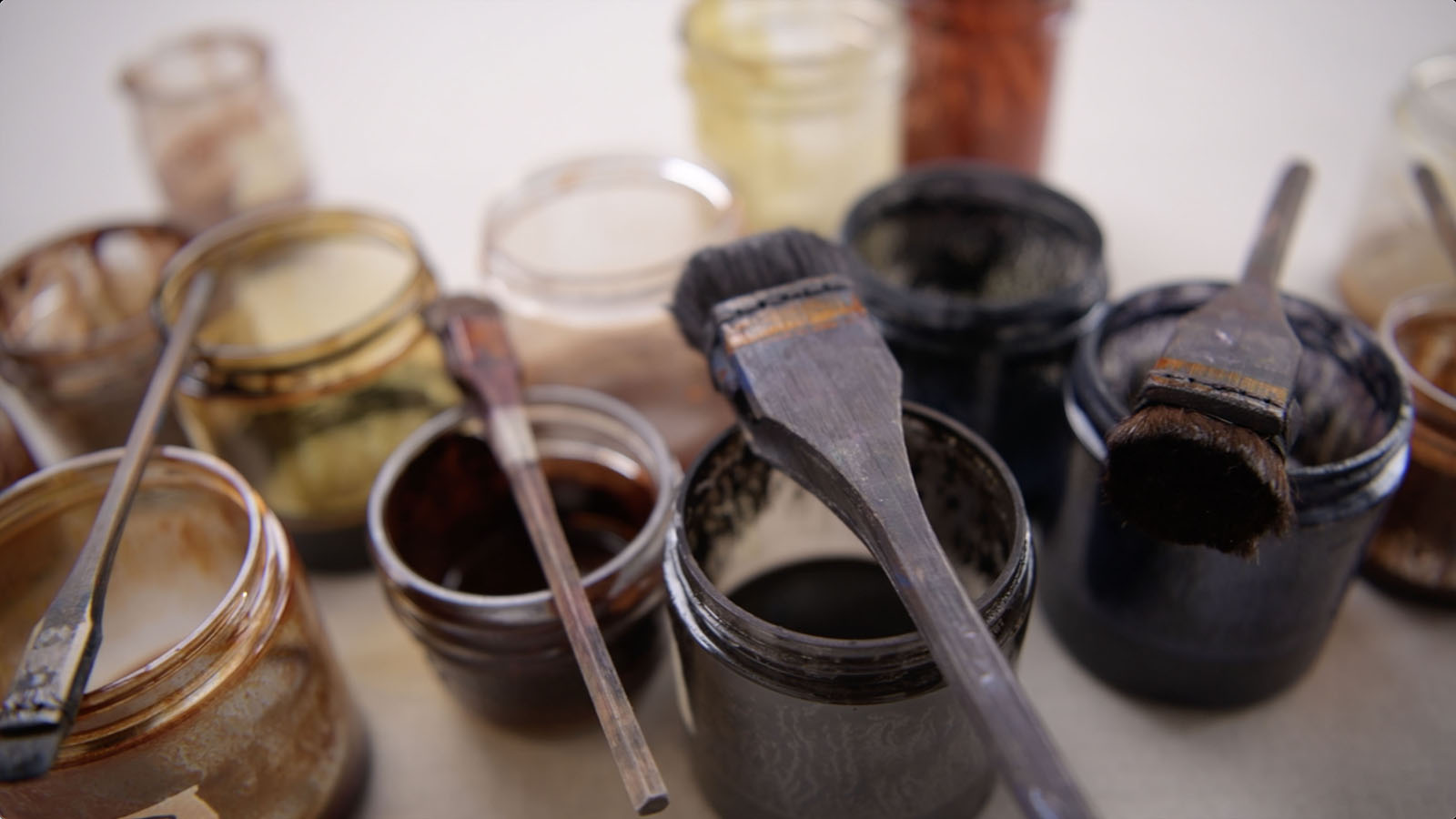 Mordant-Dye Pastes
When you combine the mordant and the dye in a single paste - your have a powerful way to work on either cellulose or protein fibres.
Iron and Tannin
Throughout history, the combination of tannin and iron has provided incredible mark-making potential. From black lines to a range of greys and stormy colours.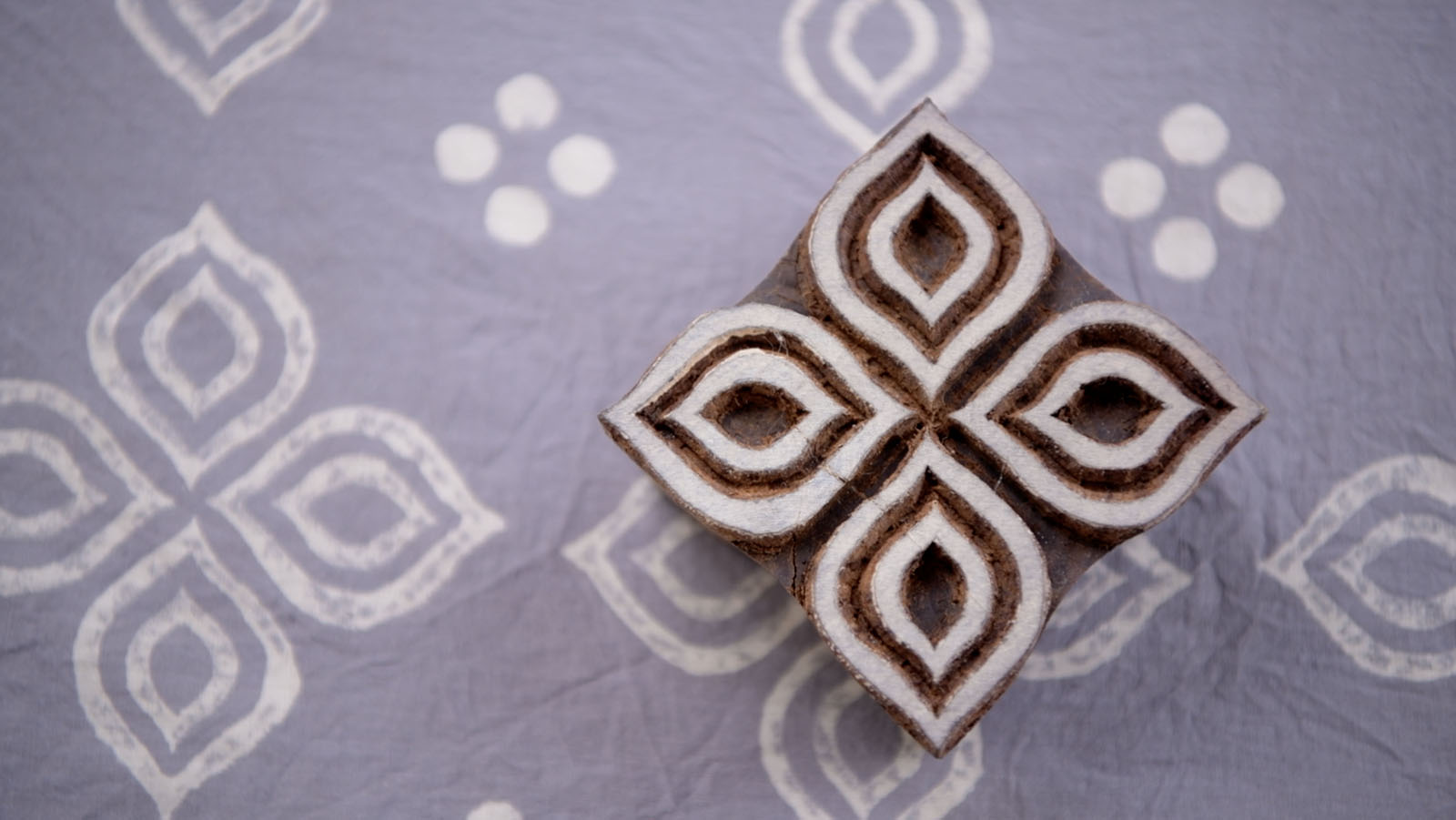 Blocks and Brushes
Sophena and Dani show how to work with a range of mark making tools including stencils, brush pens, wooden printing blocks, and home-made printing blocks.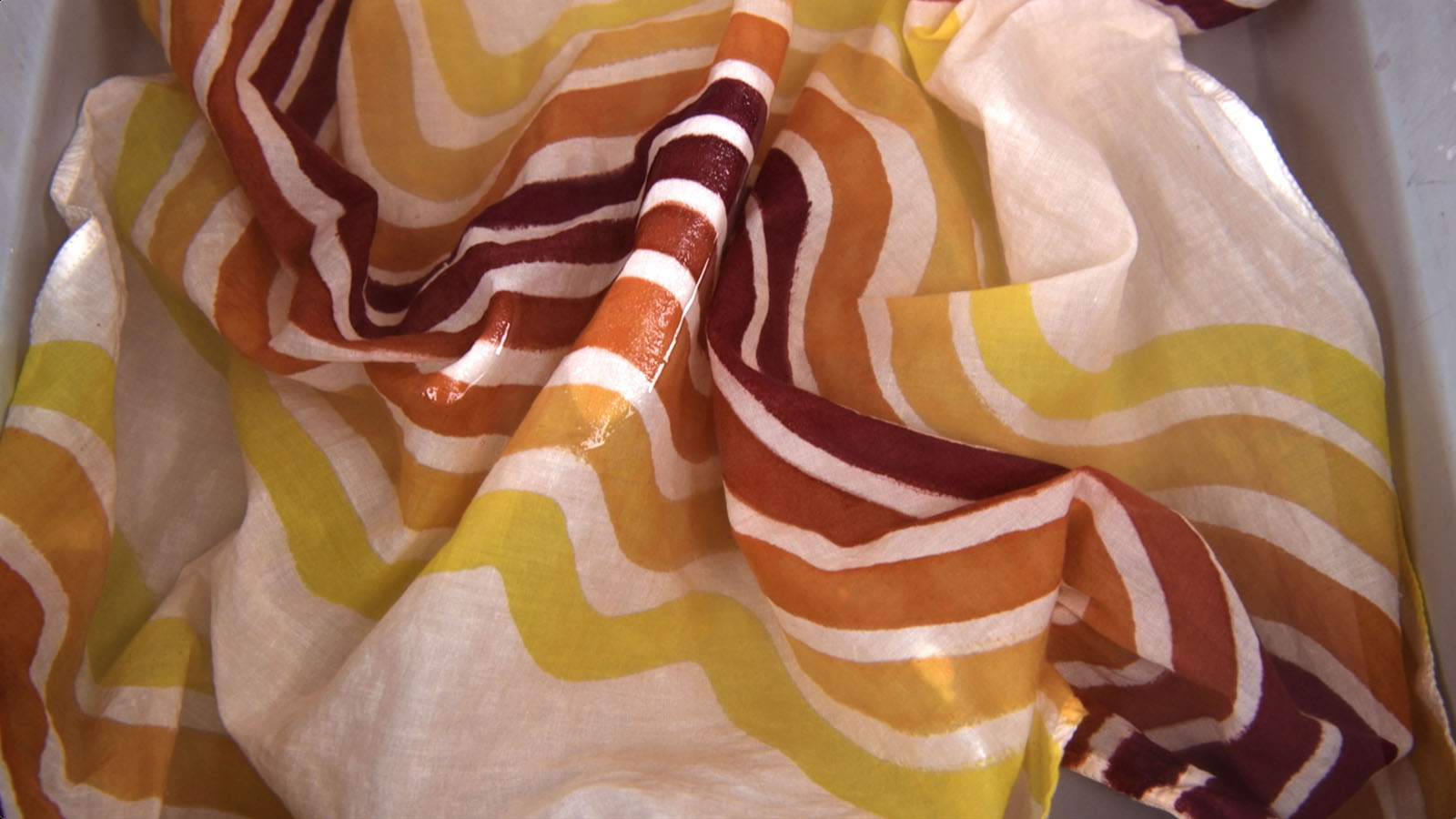 Finishing
Learn how to steam, chalk, and finish your work so that the colours live a long and happy life. Follow textiles from first scour to final rinse.
What do I need for this workshop?
We have put together a supply kit for this workshop. You may also source your own dyes, mordants and cloth — either locally or from your favourite supplier. We are happy to fill any gaps in your list — maiwa.com.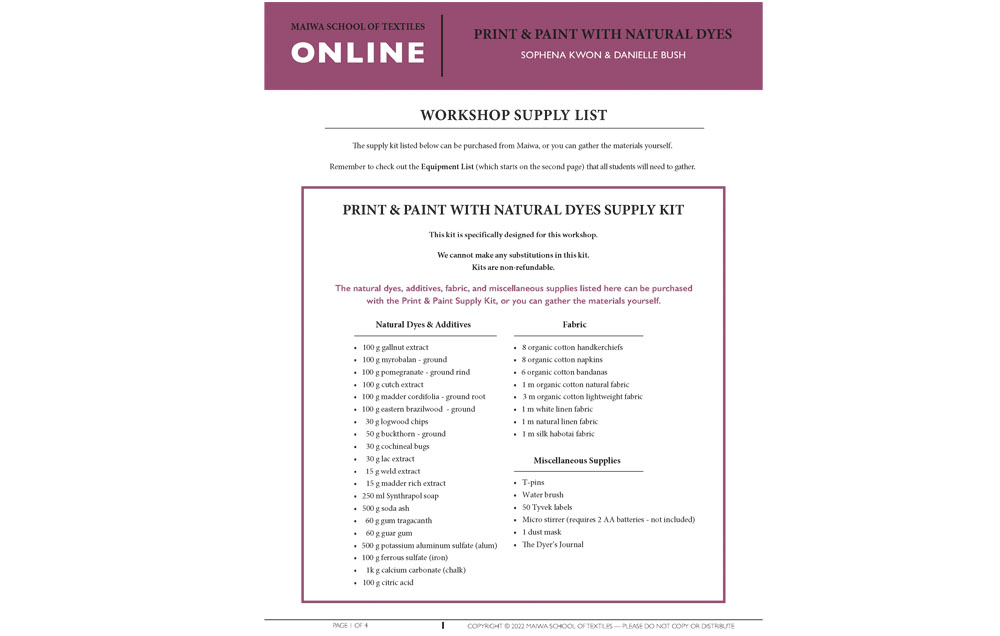 PRINT AND PAINT WITH NATURAL DYES
Supply List
From Dye pot to measuring spoon — a list of everything you will need to complete the course.
PRINT AND PAINT WITH NATURAL DYES
Supply Kit
All your dyes, mordants, thickeners, scours, fabrics and more in a kit. Priced at a discount and only available to enrolled students. The easy way to prepare for this workshop. Option to purchase is sent with your registration.
Student rate $475 // Reg price: $593.75
Free Shipping in North America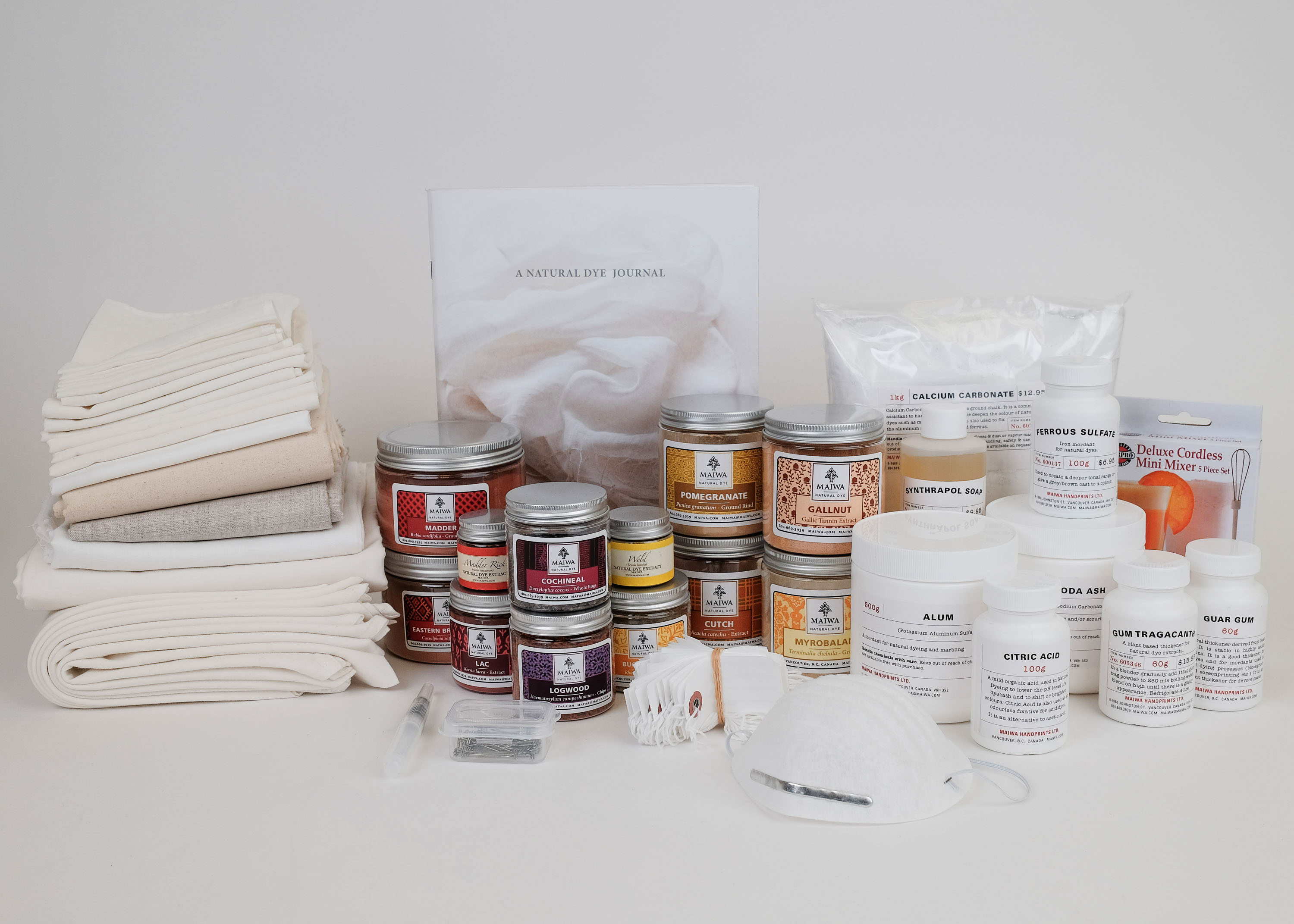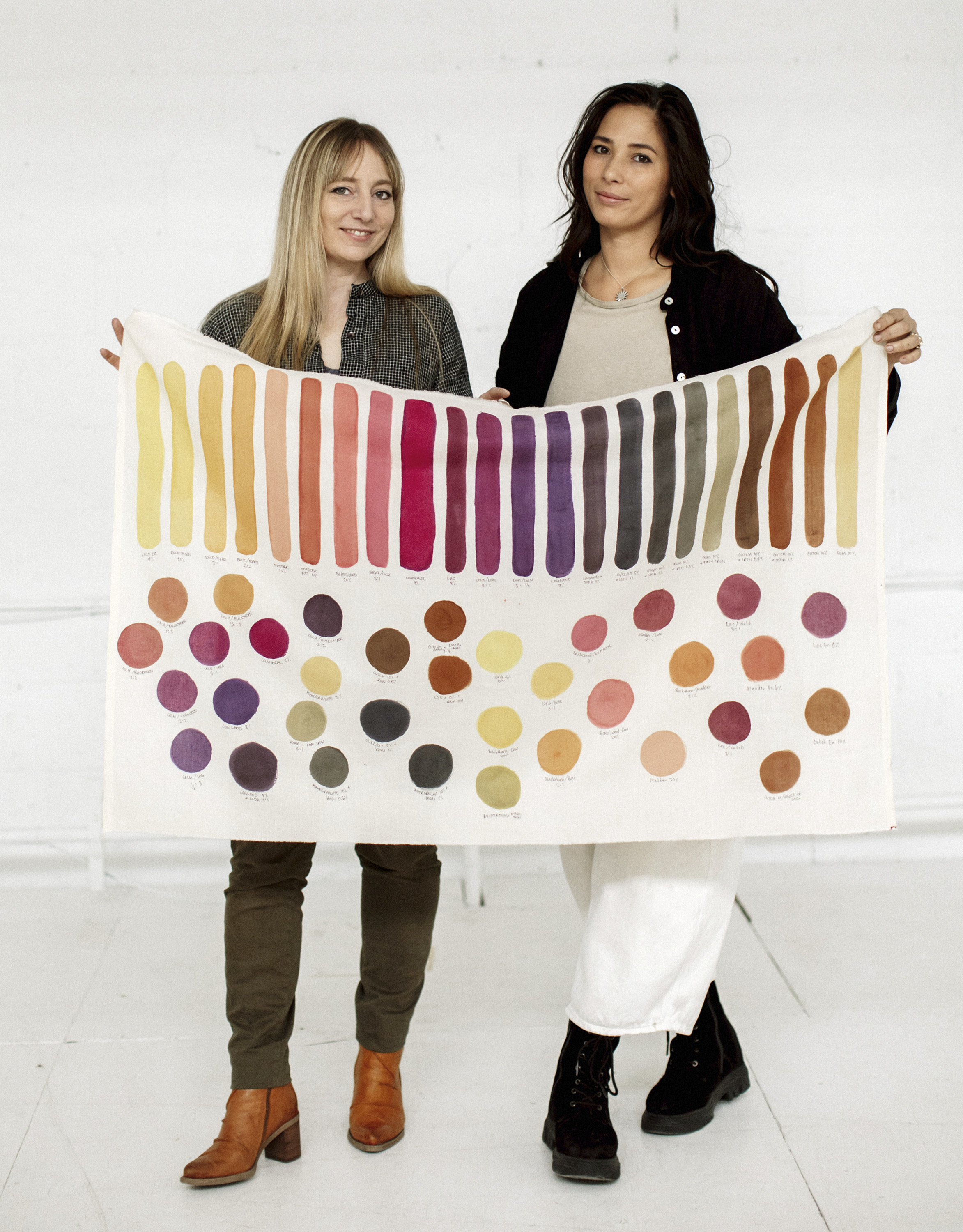 SOPHENA KWON
Sophena Kwon grew up with Maiwa as the family business. She has learned much from the artisans Maiwa collaborates with (including master dyers in India, Africa, Peru, and Mexico) and from experimenting alongside her mom, Charllotte.
In 2009 Sophena studied with Michel Garcia in France. She has taught natural dye workshops with Charllotte (including at the Penland School of Craft and at Shakerag) since 2012 and developed and taught workshops for the Maiwa School of Textiles since 2014. In an effort to bring natural dyeing to a new audience, she founded the immensely successful Indigo Social in 2015. In 2016 Sophena was invited to present at the Mood Indigo Exhibition at the Seattle Art Museum. In addition to her natural dye work, Sophena is a skilled photographer and clothing designer. Each year she travels to India to direct the Maiwa line of clothing.
DANIELLE BUSH
Danielle Bush is the manager of Maiwa Supply. Her career in textiles began with sewing and fashion studies at the University of the Fraser Valley. Upon completing courses in design, drawing, drafting, and construction, she was accepted to do a weeklong practicum in the textile collection at Maiwa Handprints. In her words, "It changed my life." Since 2011 Danielle has developed and taught workshops for the Maiwa Textile Symposium. In 2009 she represented Maiwa at the International Shibori Conference held in France, and in 2011 she was a facilitator for the Maiwa Natural Dye Master Class taught by Michel Garcia in Bengal, India. Danielle has a deep understanding of and aptitude for dye techniques and the creative process. Together with Sophena Kwon, Danielle travels to India each year where she helps manage the Maiwa studio.
What is the cancellation policy?
Please see our terms of use for our cancellation policy.
See also our Frequently Asked Questions.
How long do I have access?
Students have access to course materials for 3 years from date of purchase. Regular Q&A support is available during the 9 weeks the course runs. We include a robust collection of student questions (and our answers!) for each module of the workshop.
Free Lessons From Maiwa
As part of our commitment to the textile arts we offer these lessons free of charge.
Check your inbox to confirm your subscription